What you eat is just as significant as exercise in a healthy lifestyle. Poor nutrition can lead to a number of chronic diseases and conditions, including obesity, type 2 diabetes and high blood pressure.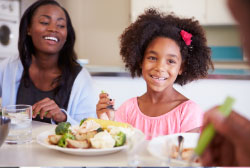 Research presented at the American Stroke Association's (ASA) International Stroke Conference 2013 found that African Americans are more likely to have diets high in salt. ASA statistics also show that first-time stroke risk among African Americans is double that of Caucasians. In addition, African Americans consume less than half the amount of vegetables that Caucasians do according to the Centers for Disease Control.
In addition to a well-balanced diet, portion control is also important.  NYC Health provides a list of food and recommended portion size for each. The list is as follows:
Milk and yogurt – the size of your fist (1cup)
Cheese – the size of your pointer finger (1 1/5 oz.)
Dry cereal – the size of your fist (1 cup)
Noodles, rice, oatmeal – one handful (1/2 cup)
Bread – size of you flat hand (1 slice)
Meat – the size of your palm (3 oz.)
Fruit – the size of your fist (1 cup)
Green vegetables – the size of two fists (2 cups)
Foods that help with conditions and diseases
Staying away from certain types of foods and drinks including processed foods, fatty foods, alcohol, caffeine and high sodium foods can play a huge role when it comes to lowering blood pressure, blood sugar and cholesterol.
According to the Mayo Clinic, eating whole grains, fruits and vegetables can help you avoid high blood pressure as well as lower it. The Dietary Approaches to Stop Hypertension (DASH) diet is recommended. Based on a 2,000 calorie a-day diet, it includes:
Grains: 6 to 8 servings a day<
Vegetables: 4 to 5 servings a day
Fruits: 4 to 5 servings a day
Dairy: 2 to 3 servings a day
Lean meat, poultry and fish: 6 or fewer servings a day
Nuts, seeds and legumes: 4 to 5 servings a week
Fats and oils: 2 to 3 servings a day
Sweets: 5 or fewer a week
To help lower blood sugar, recommended foods include healthy carbohydrates, fiber-rich foods, heart-healthy fish, 'good' fats.  In addition, the Mayo Clinic suggests the following for lowering cholesterol:
Oatmeal, oat bran and high-fiber foods
Fish and omega-3 fatty acids
Walnuts, almonds and other nuts
For more on foods that help with conditions and diseases: